Problems with plumbing? Need to build an extension? Or maybe your home repair list has got out of hand. You need some help but you want to hire someone who is responsible, skilled and qualified to do the work. Finding a competent handyman is as difficult as finding a trustworthy and reliable mechanic. But before you ring the first name you find in the phone book here's some tips to guide you in your quest.
MAKE A LIST
Take a good look around your home and make a list of all the little jobs that need doing such as leaky faucets, loose doors and faulty light switches. Prioritise them depending on your budget. Some may need to be attended to immediately while others can wait. When you've decided on a handyman you'll need to let them know all the work you need doing so they can give you an accurate quote.
RESEARCH POSSIBILITIES
Do your research carefully. Ask family and friends for their recommendations. Take a look on the internet for some local handymen and read their customer testimonials. If you get a chance, speak to some of their previous customers for real life feedback. There are numerous internet directories who can give you a list of companies who operate in your area and once you've got a list you can start ringing around.
INITIAL VISIT
Give a couple of handymen a call and invite them to come and give you a free quote. Not all of them offer a free estimate, so choose wisely. Also you should walk with builders you have chosen around your property and go over the details of the work you'll need done. You'll get a feel for the person and give them the opportunity to be precise in their rates for the work. You can discuss a schedule and talk about the equipment and materials you have that they can use. If you aren't quite sure which one to choose ask them for references and actual work they have completed.
FURTHER ADVICE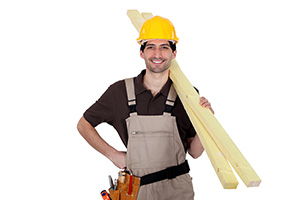 Every good handyman will be armed with a variety of skills and each will vary in the service they offer. If you can try and hire a handyman who can complete all the work, to save you trying to find someone else to complete the job. You shouldn't have a problem finding one who can fix plumbing problems, undertake carpentry and electrical work.
We hope some of the tips in our checklist: how to hire a handyman will assist in finding the right person for the job. The important thing is not to rush into making a decision. Find as much information as possible about the company or individual you are looking to hire. And don't just take their word for it regarding the quality of their work. Look at some real life examples of the jobs they have completed and speak to the customers they've worked for.