Are you planning your next vacation on a cruise? With more of us lured by the pressure to keep fit, going on a cruise can bring daunting thoughts of no exercise and putting on weight. If you eat and drink your way through a week at sea, you might come home with some unwanted relics prominently displayed on your hips, thighs, belly and butt. If you're one of the health conscious readers reading this blog post, you'll find it worth reading. The blog post will ensure that staying fit on a cruise is easy and enjoyable. As it is said- 'where there is a will, there is a way'- regardless of what kind of ship you are home, you can always find ways to move your body and stay in shape.
Cruise ship will always offer plenty of opportunities to eat yourself sick, but they also provide several ways to stay fit onboard. Check out some of the best ways to help yourself stay fit during your cruise vacation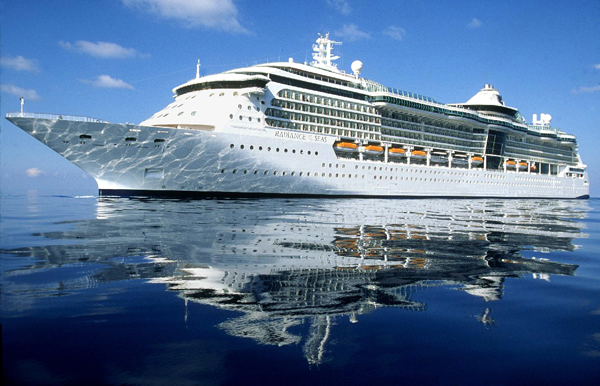 Embrace the exercise classes
From yoga, Pilates, body balance and box fit, cruises have extensive range of exercise classes for you to enjoy. There is normally an extra charge for classes, but they offer great value for money. The best part about workout classes onboard are the locations. Pilates on the top deck or boot camp, yoga on private beach, or aerobics inside a huge hall room of the cruise, you can choose any form of exercise. I am sure you'll not get such fitness experiences anywhere else in the world.
Hit the onboard gym
Cruise ships are renowned for some of the best and spacious gym in the world and certainly boast the best gym views. Imagine lifting weights as you view the sunset, or running on a treadmill constructed over the ocean. Well! Nothing can beat this experience. Now a days, cruise lines know the potential of having a gym on the ships. A couple of visits will make you feel less guilty about the calories you will be consuming during your vacation. Most of the cruise ships have state-of-the-art fitness centers. So make sure to schedule at least 30-minutes a day of cardio, strength training, yoga or stretching.
Besides, you can also utilize saunas and other fitness facilities. 20-minutes of sauna bath after workout is perfect for the day to start.
Opt for active excursions
Onboard excursions typically involve boat tours, trolley tours, or museum tours. However, some will involve hiking, snorkeling, diving or golfing. Try to choose those excursions. They are exhaustive, yet you can enjoy as you participate. Taking part in an active excursion is a great way to do a full day of exercising without feeling like tired. If you spend a day exploring on your feet or trying activities like water rafting, rock climbing and zip lining, you'll not need to go to gym or worry about what's for dinner.
Cruise ship often offers acupuncture
With the intention of promoting good health, many ships pioneered acupuncture at sea. Although one-week cruise acupuncture won't cure any pain, it may still help you to relax. The biggest advantage of having onboard acupuncture seems to be that it allows people who habitually undergo the treatment on land not to break their acupuncture routine.
Choose your food smartly
Yes, there is food available to you 24 hours a day, but that does not mean you have to eat it. Most of the cruise lines have increased the number of vegetarian and other lighter options onboard. A discernable increase in fruits and vegetables on the menu conveys a more healthful impressions. Lighter meal choices including fish, chicken and green vegetables have also find their way onto dining room menus with greater regularity. Many of the options are less than 500 calories but still fill you up and leave a tiny bit of space for desserts at the midnight buffet. In case you crave for mouth-watering snacks, bring your own healthy snacks like raw nuts, health crackers, or Lara bars and snack once a day in the late afternoon around 4 pm.
Similarly, watch your drinks. It is easy to get caught up in free flowing alcohol throughout the day. But set your limits in advance. Too much drinking onboard is obviously not helpful to your fitness program. Choose a couple of days to celebrate without it and enjoy your vacation.
Try a few of these tips on your next cruise vacation, and I am sure you don't have to give up a fun vacation to come home the same size you left.
Information Share By Parking4cruises.co.uk