Small homes need not be cluttered for lack of storage space or overcrowded from too many storage space solutions. Here is a look at some creative storage solution ideas that can be easily incorporated into most homes and within most budgets.
Dividers for Room Separation and Storage
You can use dividers in innovative ways to separate different rooms, for example, your living and dining spaces or your dining and kitchen spaces, and in the process have extra space for storage.
Ceiling Storage
Don't forget that there are plenty of ways in which you can also utilize your ceiling as storage space. You can hang bicycles from garage ceilings or even your living room ceiling with a system of pulleys. You can store books between the rafters of your attic space, or install motorized and non-motorized ceiling storage products that many storage companies offer at affordable prices.
Backdoor Hooks, Baskets, Bins
Bins and baskets are perfect for organizing those everyday essentials that don't otherwise have their own spaces. You can organize things like shoes, backpacks, outdoor toys, umbrellas in bins. Keep it in the space around your backdoor where you can easily reach them on your way out and in. You can have a separate bin for your purse and keys as well. And use hooks to hang up parkas, raincoats, jackets and hats as well.
Make the Most of Wall Units
It is common knowledge that free-standing wall units can be more affordable than built-in units. And the additional benefit you get with free-standing units is flexibility. You can customize the unit to store whatever you like. You can install a work station in a little niche in the unit for greater space utilization.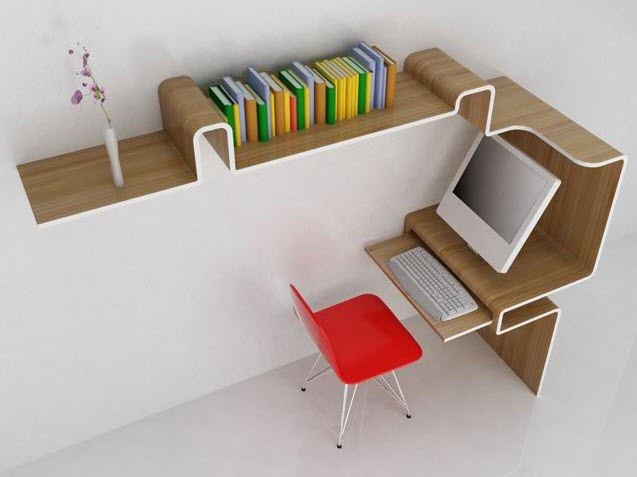 Multipurpose Furniture
There are times when you must have wished that the broad chair apron was not such a useless waste of space or the settee could have storage areas below it. If you plan carefully when ordering your furniture, or even if you can DIY some furniture that you already own, you can easily convert furniture to double as storage spaces. In place of closets at the entryway, you can place a storage bench to hold whatever you need it to. Storage benches also double as seating spaces, replacing the need for space-hungry chairs.
Hide Rarely Used Items
For items that are brought out only from time to time or rarely, they can be safely hidden away under settees and beds. Drawers fitted with casters can be used to store the items and rolled under the furniture until they need to be brought out again. Toys in cramped kids' rooms can also be stored away in the same way. Seasonal clothes or other clothing items can be sealed away in garment bags to protect them from dust.
Pare Down Kitchen Storage
Many homeowners don't realize that their kitchens contain many items that are rarely, if ever, used. Purging the cupboards and reducing the items to only the essentials can clear up a lot of wasted space. Arranging the items in convenient groups, like juice glasses, tea, coffee, cereals and other morning items together, can make it easier to reach them easily when required.
Door Framing Shelves
Walls containing doorways are usually underutilized. Owners of small homes can make the maximum utilization of the wall space by installing a creative shelf framing the doorway. These shelves can be utilized to store books or collectibles in the case of living rooms or jars and other kitchen tools at kitchen doorways. You can be as creative as you want with this.
Stair Drawers
If you think out of the box, you will discover that stairs can be more than for simply getting you from floor A to floor B. You can also use your stairs to store seasonal clothes and other knick-knacks, and not only with under-stair cupboards. The stairs themselves can hide drawers to store things. As presented in a design by USC Viterbi School of Engineering freshmen in 2010, tight spaces and small homes can get more out of their staircases by building drawers into the spaces between stairs. Stair Drawers save space, make use of the useless and can be affordable if you're having the stairs custom made for a new home.
Make the Most of Open Floor Plans
When choosing solutions in storage homeowners with open floor plans often end up with bulky furniture that waste space. Open floor plans are meant to give an appearance of space, so it is essential to not waste it with additional cupboards and other furniture that can be done without. You can maximize storage space on open floor plans with half-wall storage units separating your dining and kitchen space. Instead of a bar on the dining side of your kitchen island, you can have a built-in shelf.
If however these storage solutions are not enough there are other solutions such as renting storage units to store the items that are not used as often and those that don't fit into your home. No matter where you live, there is plenty of rent-able storage in Auckland, Los Angeles or Paris to name just a few. Storage units are a great solution for small homes or apartments.